Why Online Reviews are Important
When you're starting a local business, it can be tough to get the word out about your products and services. But if you want to attract new customers, it's essential to build up your reputation online. The best way to do this is by encouraging customers write reviews of your business. We'll show you how!
Dec 13, 2021
Written by: Row Business Solutions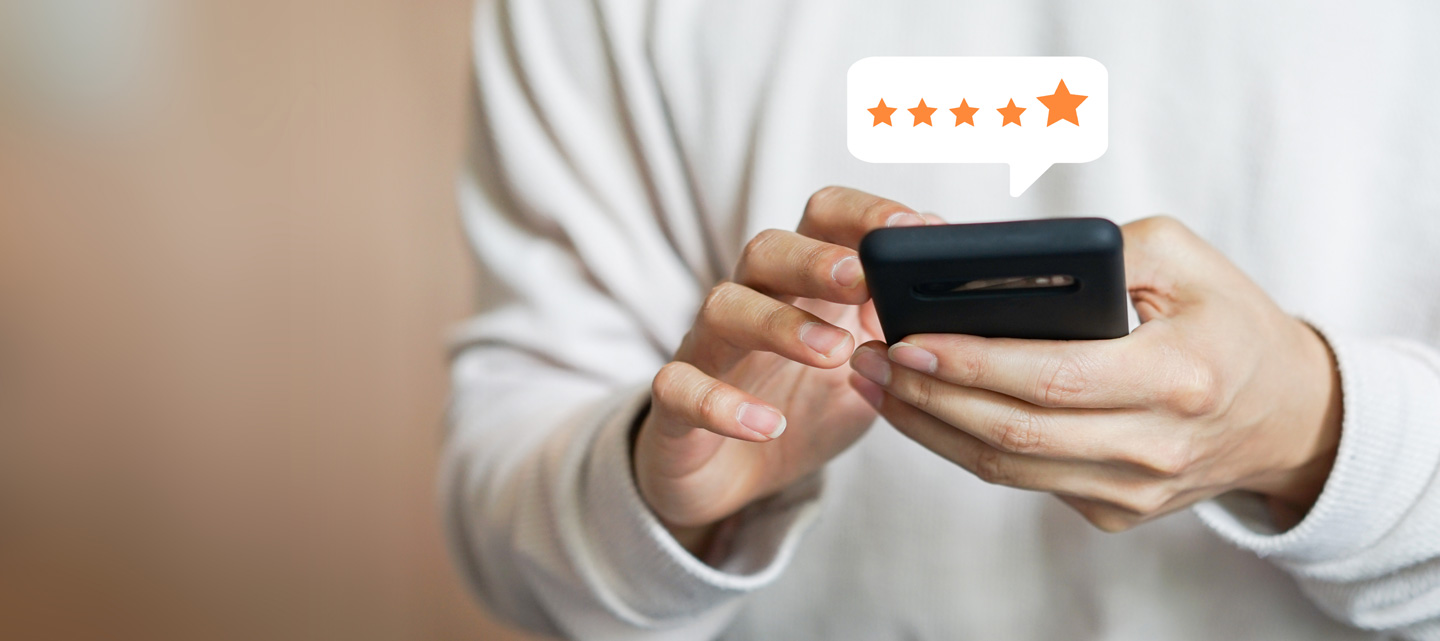 Getting reviews is the first step.
Getting reviews, especially positive ones, is the first step. You can't improve what you don't measure, right? After getting all these reviews, it's time to respond to them. Responding with an automated message like "Thank you" or "We're so glad you enjoyed our services" isn't good enough anymore. This can make your customers feel undervalued and ignored—and they may go elsewhere next time around if they feel like their feedback isn't being heard!
Instead of sending out one generic response to every review received, try replying individually with a personalized message that addresses the specific points raised by each customer. This shows that you care about their experience and will take steps toward improving it (and yours). It also gives you an opportunity to further engage with your customers—and maybe even turn them into loyal brand advocates who will happily recommend you without prompting from friends or family members!
Be sure to claim your business and check your listing.
Be sure to claim your business and check your listing.
Even if you're already on Google, it's important that you check that the listings are correct or up-to-date. There may be incorrect information in there, so it's worth double-checking.
Businesses should also claim their local business (or their mobile app) listing and make sure everything is accurate and up-to-date. It will help with the accuracy of future reviews, which we know is very important for ranking well on search engines such as Google.
Encourage customers to write a review.
To encourage customers to write reviews, you can:
Offer rewards or discounts. Tell customers that they won't receive their reward unless they leave a review. You can also offer this incentive when they check out as a separate step, such as by saying "Review us on Google and we'll give you 20% off your next purchase!"

Use email marketing. Send an email asking for reviews from customers who have made purchases in the last 30 days—this way, it's clear that if they don't leave a review now, there will be no additional communication from your company.

Use social media influencers in your community to talk about local businesses and services on their social channels. They're more likely than anyone else to be able to convince people who aren't already familiar with your business's value proposition (or at least recommend them) because these types of users are much more likely than most others not only still exist but thrive on word-of-mouth advertising which ultimately means getting more eyes looking at what kind of service provider really delivers good value - i.e., how good is it?
Reply to reviews, good or bad.
The best way to show your customers that you care is by responding to both good and bad reviews. Responding is one of the best ways to retain your customers, but it's also important to do it quickly. According to a study conducted by BrightLocal, responses are more likely to be read if they come within 30 minutes of posting and even more so if they come within 10 minutes.
Respond publicly: The second most common response from businesses on review sites is "We appreciate all feedback from our customers" (33%). Though some consumers may appreciate this response, others may think that this is not enough engagement with the consumer or that their comment wasn't taken seriously by the business owner/manager/employee who wrote this response because many local businesses don't respond at all! If you are going to reply publicly make sure you do so in a positive tone and explain how you plan on addressing any issues raised in their review (example: we are sorry for any inconvenience caused).
Respond sincerely: Consumers want businesses owners/managers/employees who take responsibility for mistakes made instead of pushing blame onto other employees or vendors within their supply chain or blaming weather conditions outside of their control (example: we apologize for any problems caused during installation due our delivery man being sick last week). Consumers also want business owners/managers/employees who will listen carefully and then understand what happened before responding appropriately rather than simply stating another generic line about how much they value customer feedback without actually saying anything useful whatsoever!
Businesses can use online reviews to better understand their customers' needs and improve their digital presence.
When you're running a local business, it's important to understand what your customers are saying about you. Reviews are an easy way for people to share their experiences with others and help them decide whether or not they want to patronize your company.
Reviews can also be used by businesses as a tool for improvement. Whether it's improving customer service or adding new products, reviews can give you insight into what needs improvement and how best to improve it.
Online reviews have also become an integral part of how businesses build their digital presence online by creating a social proof that demonstrates why someone should do business with them (or not).
Reviews & Local SEO
You might have heard the term "local SEO" before and wondered what it means. The short answer is that it's a way of optimizing your website so that you show up at the top of Google searches for local keywords. A longer, more detailed answer would be that local SEO involves making sure your website has certain features that tell search engines like Google and Bing where you're located (e.g., your address, phone number), what kinds of businesses you offer (e.g., "plumber" or "restaurant"), and whether those businesses are open now or closed today/tonight/next week/next month (or all three!).
Google also looks at reviews from customers to determine how relevant a business is when someone searches for it based on its type (e.g., restaurants) or location (e.g., New York). This means that getting online reviews will not only increase awareness about who you are but also help people find out how good or bad other people think about working with you!
Conclusion
With the right tools and strategies, you can increase your online reviews and improve your local SEO. The key is to make sure that you have the best possible strategy in place before you start reviewing other businesses so that they don't get away with bad reviews on yours!